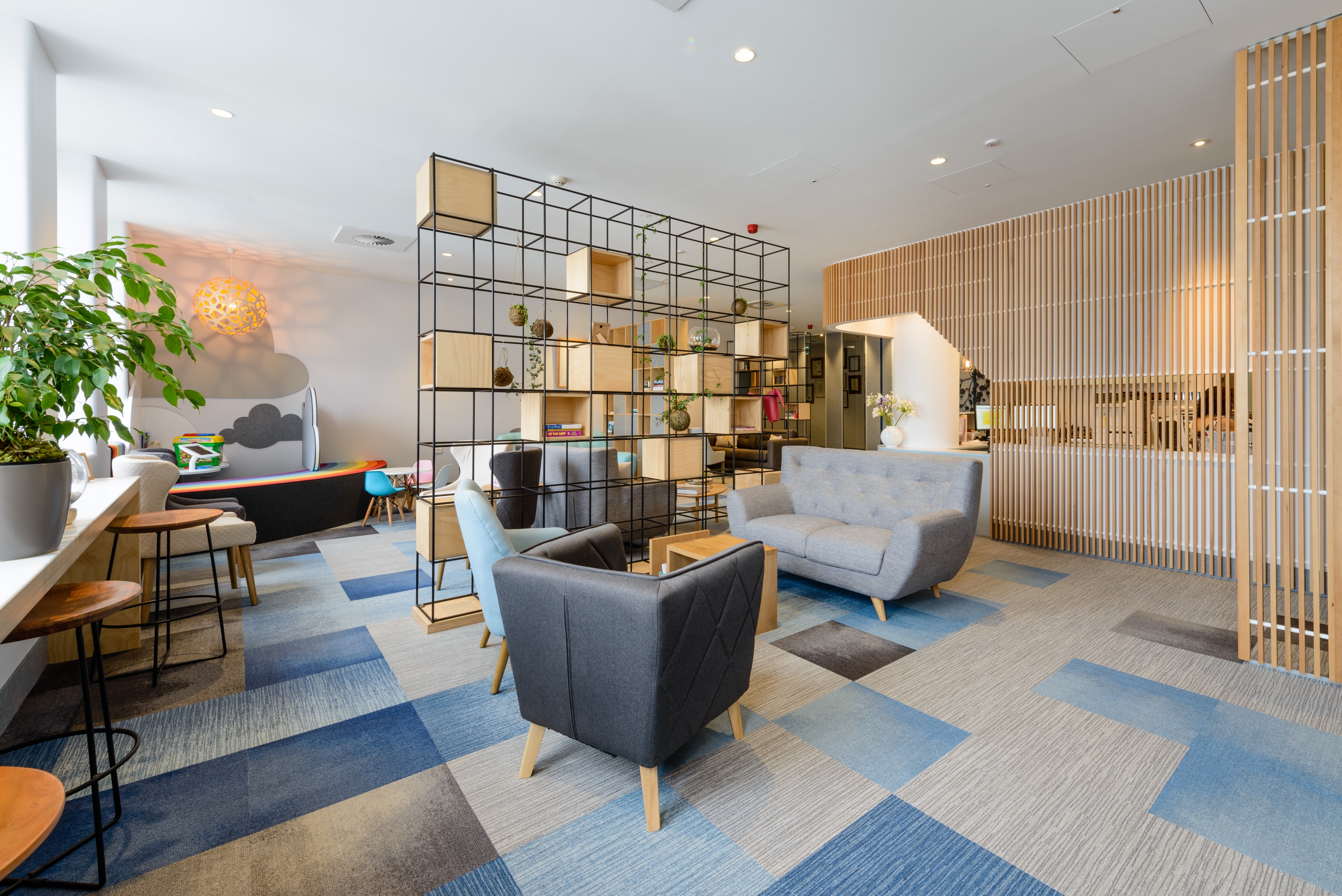 Fertility Tasmania fit out
State of the art
In the heart of Hobart's CBD lies Fertility Tasmania's wonderfully serene clinic, purpose built to provide care to women in all stages of their reproductive life. BYA Architects have cleverly disguised the state-of-the-art facilities and equipment, creating a feminine and intimate atmosphere for clients.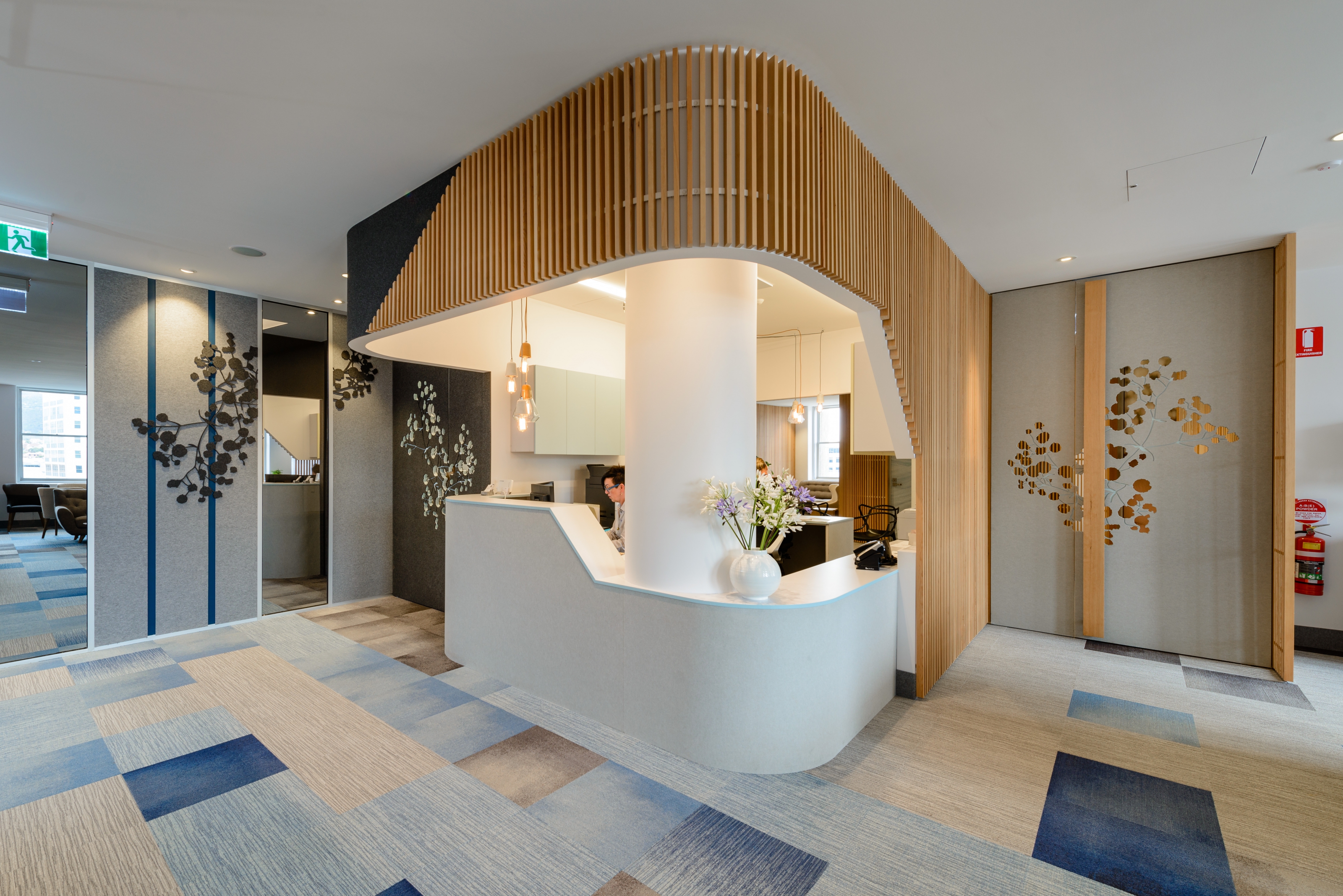 Interior fitout
The spatial experience is clear and intuitive from the start, enhanced with translucency, texture and natural light. This creates contextual change, ease and calmness for occupants.
The brand and style guide is masterfully integrated, utilising a natural earth-tone palette of materials, imagery and colours.
A monument wall within the lift lobby provides the first way-finding cue. Baby's breath imagery is used subtly at first on the immediate wall, enhancing the way-finding experience, directing clients to the welcoming area.
The notion of feminine is expressed by crafting soft curved walls to divide the clinic and laboratory. These walls are also used to provide a clear sequence of space.
Consulting rooms are set on the perimeter wall and windows. Natural light fills the internal corridor and spaces beyond from translucent glass walls and vertical timber slats, providing both visual and acoustic privacy.
BYA Architects completed the space with a mixed variety of furniture, referencing a sense of home. Budget was manipulated with low cost pieces, being mixed with high quality items.
The children's area is enclosed by a colourful rainbow seat echoing the curved forms of the wider clinic, cleverly creating a sense of fun, joy and order.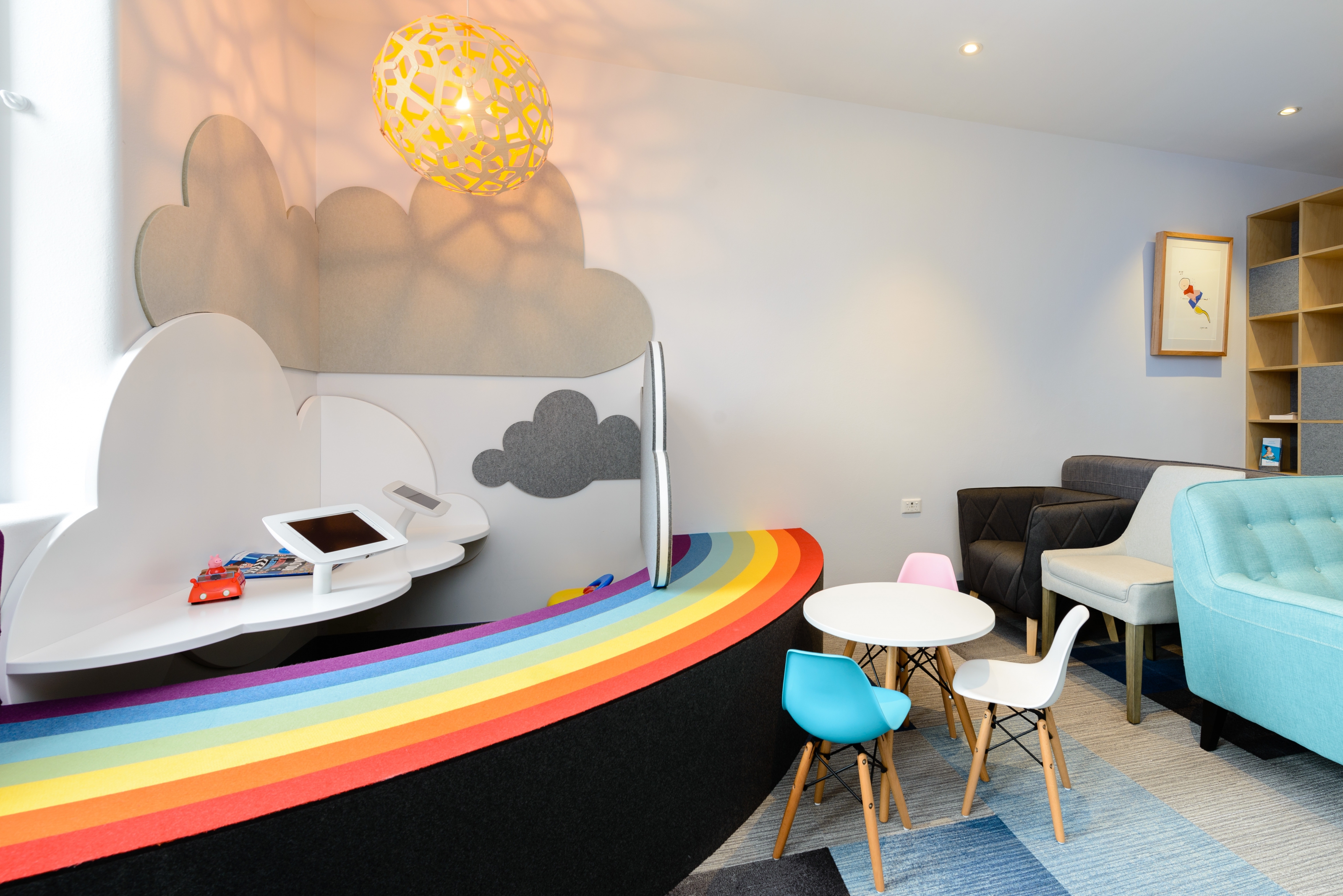 An example of excellent interior design
BYA Architects interior design breaks traditions surrounding scientific and medical environments.
The ageing building envelope limited the space with only one wall with openings facing a busy CBD street. Natural light is maximised into all spaces including the internal offices and staff room, without any loss of privacy.
The fertility clinic's branding is kept minimal and abstract. The brand is utilised subtly on the oversized timber door handles, doors and walls. Shapes are laser cut from elements to allow light penetration to other spaces. Cut out material is then re-used on the felted acoustic wall, completely eliminating waste.
The acoustics of the space have an excellent feel and have been carefully engineered by BYA Architects, building on their expertise and experience with recent Vodafone call centres.
The interior sensitively incorporates the client's brand.
Innovation
Fertility Tasmania challenges old traditions by integrating privacy into every aspect of the design.
The waiting room is unlike an airport waiting lounge or public hospital.
Recessed lighting is placed around walls, removing gloom, balancing light and reducing glare for occupants.
Instead of traditional grid ceiling, solid flushed plastered ceiling is installed, referencing a more residential approach.
The acoustics environment is considered at every aspect and detail. Skirting is made from felted sheet to reduce reverberation noise, whilst also being very practical at hiding scuffs. Laser cut doors allow light penetration and reduce reverberation. Slatted walls provide acoustic traps.
View the VR here

---