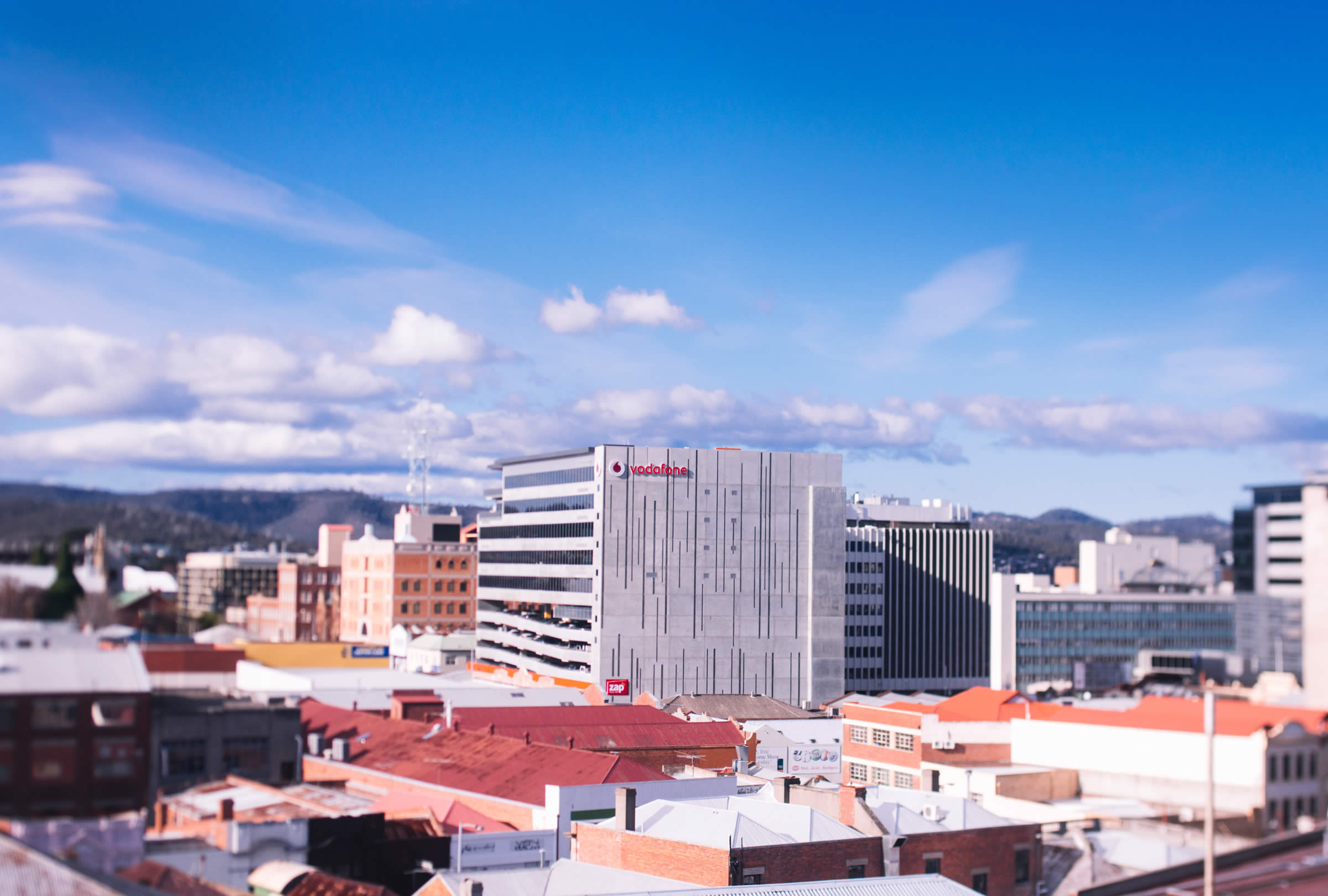 Vodafone Call Centre
Hobart
BYA's earlier Huntingfield Contact Centre housed 525 Vodafone staff over 5,200m². The brief for Bathurst Street required much denser accommodation, housing and training up to 1100 people across 5 floors. With a space of 8,500m² to work with, a different approach was required to ensure occupants were afforded optimal conditions without a loss of amenity afforded at the Huntingfield Centre.
BYA were involved early during the Bathurst Street lease negotiations and before the base building construction commenced. We reversed the proposed decision to locate facilities centrally and pushed them out to the least desirable edge of the building to control the western sun and open up the floor plate. This allowed us to express an exciting book end concept formed by timber walls that occupants passed through to get to facilities and support services. The corresponding semi transparent north eastern side houses the Energise and Meeting Rooms.
The book end concept also assisted us to design a good balance of light across quite a narrow floor plate and afford good suburban views to the building's occupants.
Further into the construction process, the tower crane hole in the middle of the building was maintained as a central circulation area with open stairs and slides designed to for pairs of staff to race down to the next floor.
Due to the requirement for tight workstation dimensions, a radial layout was adopted with groups of desks positioned along these lines. The expanding nature of the layout removed the pigeonhole effect and created interstitial spaces that allowed for the convenient location of Huddle and Pod meeting spaces. These were designed and placed in a manner to not reduce the transparency of the space.
Due to the sensitive nature of customer privacy and the stress that comes with noise and public interactions, the space was required to have a measurable acoustic benchmark set by the Huntingfield site. To achieve this, we negotiated during the lease period to remove the proposed ±2700 grid tile ceiling. This afforded us every opportunity to have full control over acoustics, ceiling height and light.
---